October 30, 2019- by Steven E. Greer
I like to take my summer vacation at the very end of summer when everyone else is done traveling. I do not fight mobs. The weather is also nicer in September and October.
So, this year, I started in Los Angeles to see The Who at the Hollywood Bowl. It was a great experience.
I then drove the two-hours East to Palm Springs to play golf at the La Quinta resort. I had asked several of my very experienced golf professional contacts what they thought of the idea of playing in the desert in October. None of them had much insight, which tells me that it is not a very well-known destination at this time of the year.
Upon arriving at the La Quinta, which is a Waldorf Astoria and Hilton property, I was pleased with the 1920s old-school look. The rooms are individual little bungalows with great mountain views. The hospitality was good, and I am usually displeased by hotel staff. The GM, Dermot Connolly, seems to be doing a good job.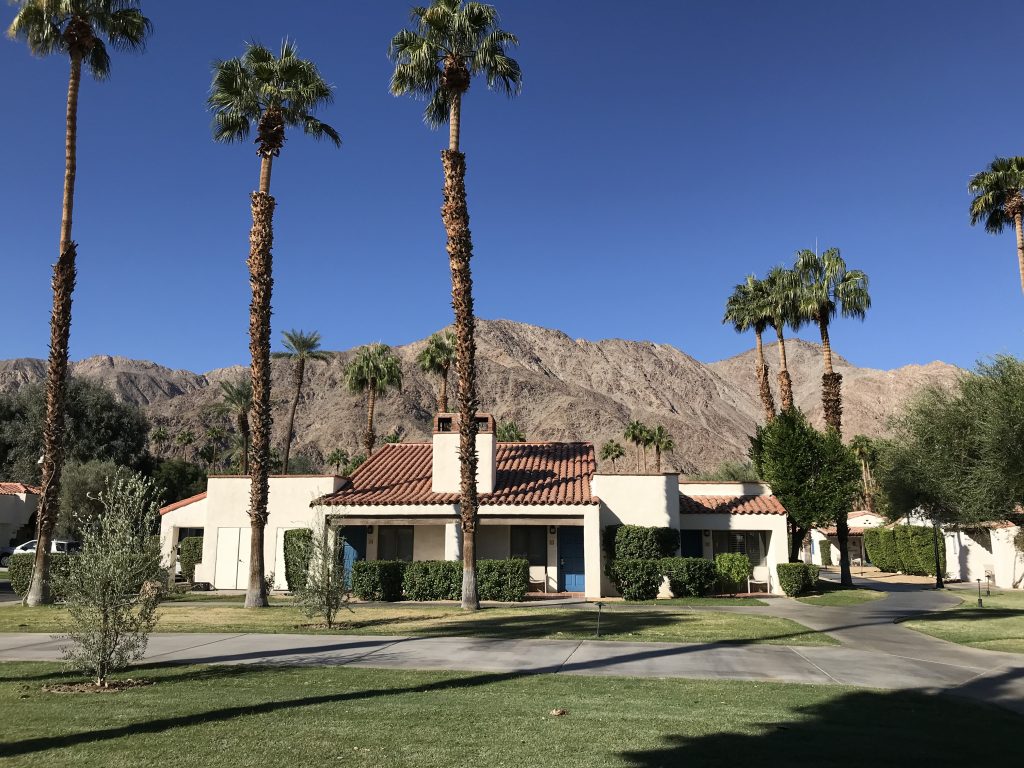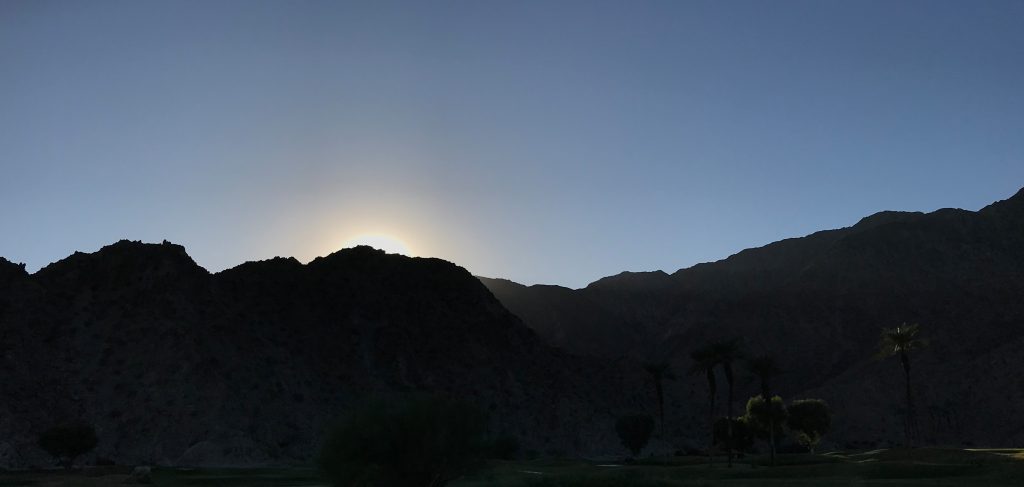 The only thing I did not like was that they charge a resort fee. Those are flagrantly illegal. But it is a practice so prevalent now that I cannot really single them out for that.
The first day, Saturday, I played the Dunes course, which is on the property of the La Quinta resort. There are five courses from which to choose when staying at La Quinta. Three are several miles away. The Dunes is slightly more playable than the championship Nicklaus and Stadium courses over at PGA West, five-miles away. I wanted to warm up and start easy.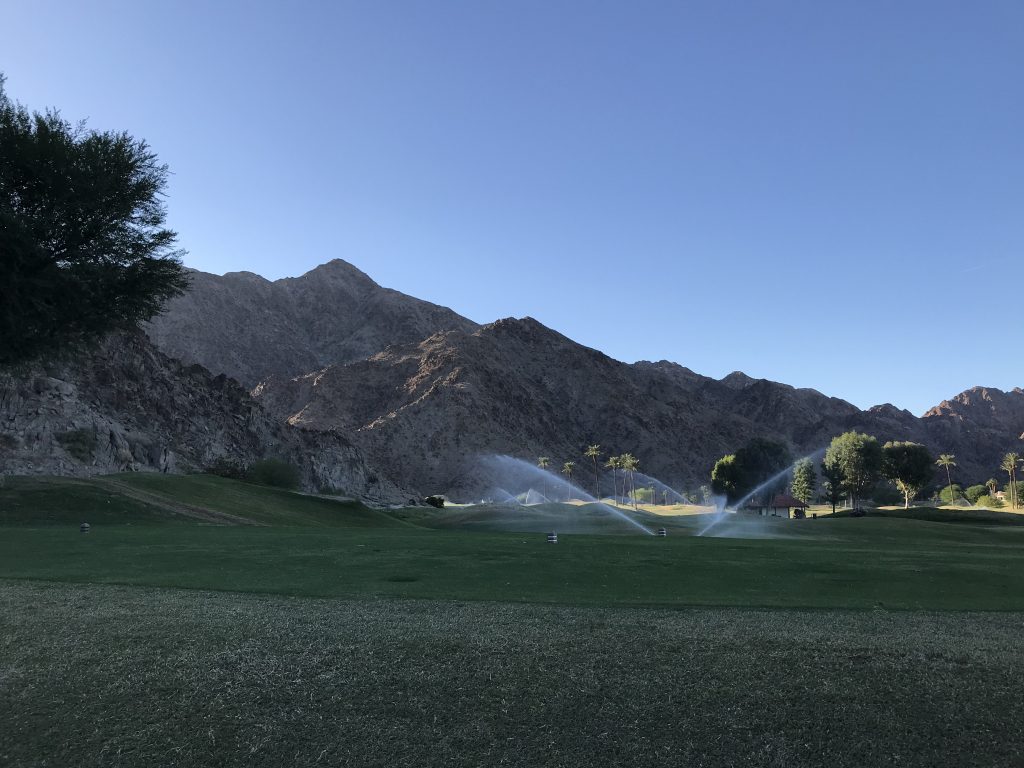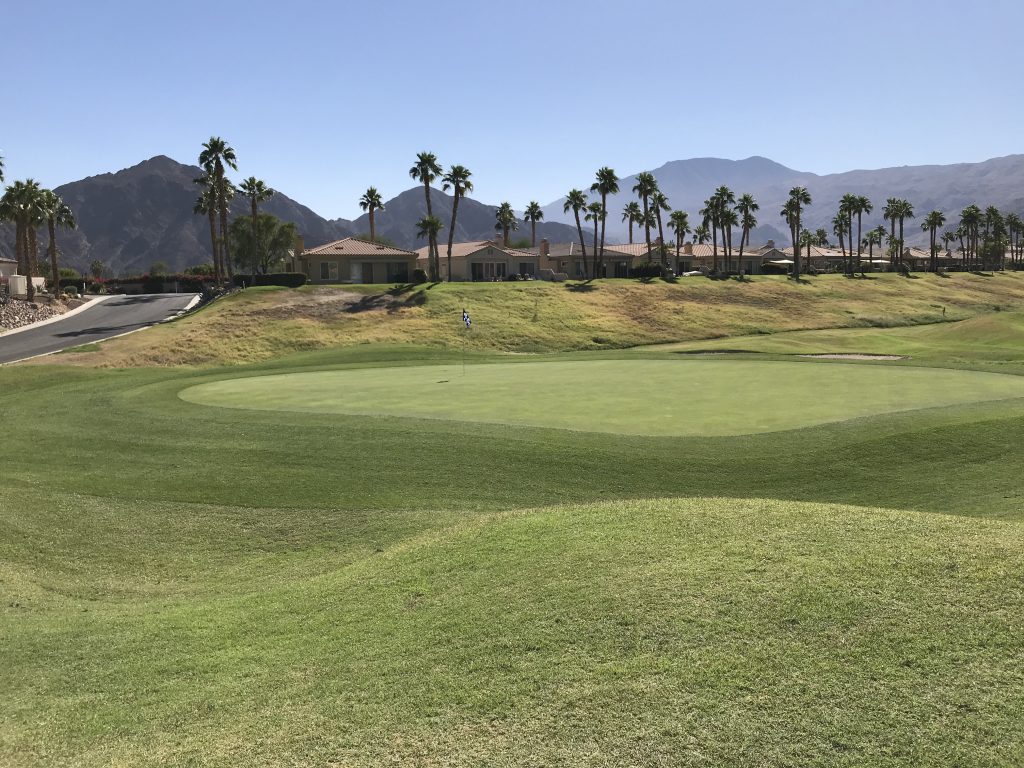 Well, this was probably the craziest, worst-managed, golf course that I have experienced in my 38-years of playing golf. I might have experienced worse at some point but I cannot remember when.
First of all, I was there before noon and the driving range did not have golf balls. The resort was setting up a wedding event stage on the driving range.
When I went out to golf, the three people who were supposed to be paired with me did not show up. This should have been a non-issue, but the starter turned it into an ordeal. He was rude, interrupting, lecturing, and just totally lacked any hospitality training.
Once I got onto the course, I realized that I was following an illegal five-some. It was two elderly people in one cart and then two parents with a child in another cart. I normally just drive around a logjam and forfeit some holes. But there was an illegal six-some in front of them. The course was overcrowded due to the wedding and another large corporate event right as three of the five courses were closed due to re-seeding.
After the round, a hotel resort employee brought me back on a golf cart to my bungalow. I was sharing my gripes with him and he told me something that reinforced my views. The hotel staff is trained and knows how to deliver hospitality, but the golf course is separate management. The employees seem to be mostly retired men lacking training. This resort employee driving me had observed how rude they can be compared to the resort staff.
The next day, Sunday, I drove the five-miles to PGA West and played the Nicklaus course. It was the only one open due to re-seeding.
On desert courses, the temperatures at night get too cold starting in September and the Bermuda grass goes brown and dormant. To make things look prettier, they over-seed with temporary rye grass. They have to heavily water the fairways to get the grass to grow, so they are too soggy to play.
Anyway, upon arrival, I could tell that this Nicklaus course was managed much differently than the Dunes. It had the same type of professional hospitality that you would see it Nicklaus' Muirfield Village. Because this course hosts part of the PGA tournament in January, Jack Nicklaus is personally involved. I was told that he shows up and does quick rounds to make sure that the quality is up to snuff.
I had breakfast in the clubhouse, which was quite good. The omelette and sides could have been the best I have ever eaten.
The golf course is an excellent design. It has extreme undulations and exotic bunkers.
Of note, Palm Springs is only at 400-feet elevation. You will need to hit an extra club than normal if you live at 1000-feet or higher. I learned this the hard way. For example, I hit what seemed to be a hole-in-one on a Par-3 only to see it come up 10-yards short into the pond.
Because this course was just coming out of the over-seeding, some golf manager somewhere made the incorrect decision to have cart-path-only rules. This was not a 90° rule, but rather a GPS-enforced strict cart-path-only rule. The problem with that is the severe undulations and far distances one has to walk if they hit the ball on the opposite side of the course as the cart path. I had several holes where I had to walk hundreds of yards, from the cart to the ball and back again.
But the walking is only part of the problem. One does not know the yardage being so far away. I had to take my entire golf bag with me on several occasions. In the dry desert, this is not only exhausting, but it also slows down play tremendously.
With cart-path-only rules, the course is simply unplayable. To institute this rule means that the person behind it clearly is not a golfer, which is the case so often.
The proper decision would have been to allow players to drive in the rough. The Bermuda grass would not be harmed. Alternatively, they simply should not have opened up the course at all.
So, once again, my day of golfing was ruined by bad golf management.
I had another day of golf left in my package but I did not bother. I drove up into the mountains instead.
The lesson from this is to be very careful about booking a desert course resort trip in October. The rates are at half-price for a reason. The courses are often cart-path-only and the putting surfaces are bumpy due to the new rye grass and high lengths.
All in all, even though I found the actual resort and golf courses to be nice properties, my entire trip was a waste of time and money. I traveled there only to golf. I do not care about spas or massages.
In the bigger picture, there is an epidemic of incompetent golf management in this country. For one reason, the PGA is doing a terrible job at training people. Another reason is that large private equity companies, such as Blackstone, buy resort properties and then find themselves running a golf course by accident. But they have no clue how to run a golf course.
The golf course on properties like this is the anchor to the entire real estate going concern. They are not little side projects to be outsourced to unqualified management companies.
To meet this demand for better golf course management, some companies have tried to scale up and become national golf management companies. Troon is one of them. I learned that Troon will be taking over the management of the La Quinta courses.
Clearly, I am not the only one to spot problems.
In summary, Palm Springs and Troon are great places to visit for golf vacations. Just avoid them in October unless you make sure in advance how the courses are being operated.