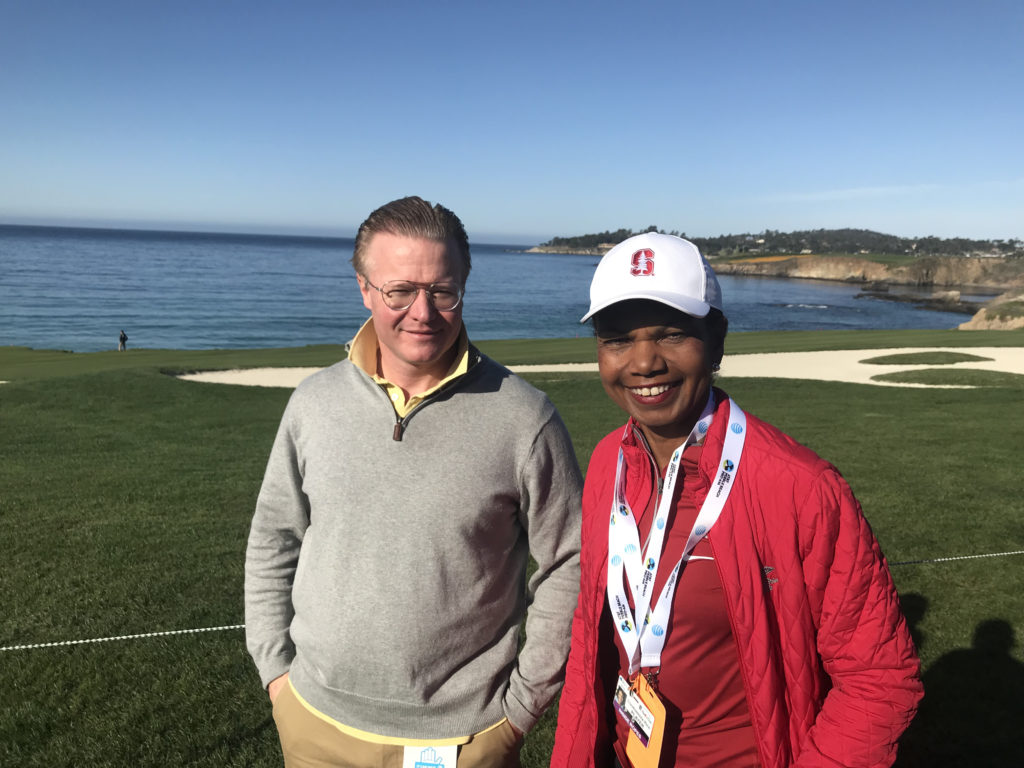 Update May 28, 2019- The best players in the game were seriously considered boycotting the U.S. Open due to the USGA's problems, which I detailed below.
Update: February 20, 2019- The slow speed of play is becoming a huge problem. J.B. Holmes was taking several minutes to line up each putt. TV broadcasts are unbearable to watch even for the avid golfer.
February 6, 2019- by Steven E. Greer, MD
The sport of golf is sick and dying. Television ratings are down since the end of Tiger Wood's prime playing period. The golfers who took over from him are boring robots with little personality. Golf course housing developments are struggling. The Wall Street Journal reported last month about the growing number of courses falling into disrepair, hurting home values. The average demographic for golf is that of a white male nursing home.
Meanwhile, Topgolf is doing very well. A new one opened north of Columbus and I cannot tell you how many times some non-golfer has told me about it with enthusiasm. Topgolf is more like a bowling alley than a stodgy golf course. People of all ages and sex can go there and have fun for a few hours. The players get instant feedback with computer data on the shots. There is none of that tension caused by dealing with players in front of or behind you. There are no idiotic USGA rules to worry about.
The governing bodies of golf need to learn from the success of Topgolf in order to turn around golf from a declining sport to a growing sport. This is what they can do now:
People do not have time for 18-holes of golf, even if they have already made the commitment of becoming a member. Rounds of only nine-holes should be encouraged. All pro-shops should offer nine-hole fees.
Par-3 courses should be promoted. People of all ages and skill should enjoy golf. The most traditional of courses, from St. Andrews to Augusta National, have par-3 courses or putting courses. The PGA could host an event on a par-3 course to bring the skill shots back into focus. Watching a drive on television is very boring. They all look the same.
The PGA and other tours could also have team sport golf that involves men and women who specialize in certain shots. There could be a designated driver and then a different person to putt, etc.
The governing bodies can eliminate the most idiotic and unfair rules in golf. The USGA and The Royal and Ancient in Britain are doing the right thing this year by dropping some of the worst rules that have caused players to lose major championships.
The speed of play in professional golf is a real problem. The dirty secret is that the best players in the game take up to three-minutes to hit a putt. Last year during a weekday telecast, I timed Dusting Johnson taking that long. He still missed the first putt badly and ended up three-putting!
Tall rough should be banned. It is a modern concept dreamed up by the USGA to make the Open tough. Now, all courses think they need it.
There is nothing more unfair and enraging than to lose a golf ball that is slightly off the fairway. It ruins the round. Nobody realistically will go back to the tee, hold up play, and hit another one. Short rough will also speed up play.
I read Alister Mackenzie's writings on golf course design in a book called The Spirit of St. Andrews. He mentions several times that the ideal course should minimize the chance of losing a golf ball. Most of the best and oldest British courses have tightly clipped rough because sheep and rabbits were the lawn mowers back then. The best courses in the world, such as MacKenzie's August National, Cypress Point, or St. Andrews, do not have tall rough.
Golf courses should become centers for exercise. People should be encouraged to walk. Instead, the failing golf courses have become addicted to riding-cart revenue.
Riding carts have ruined the game. The whole point of golf is to get away from the worries of the day and walk a beautiful course. One also needs to slow down in-between shots. Personally, when I get the rare chance to walk, I am much happier at the end of the round because I know that I got in some exercise.
Sadly, climate change has made walking a course without a caddie too dangerous due to heat exhaustion. But modern robotic electric push carts are a great solution. The player does not have to touch them. They follow the golfer.
Females need to be encourage to play. Perhaps the greatest improvement to the game has been the introduction of high school golf teams for girls. Golf is a great sport in which to earn a college scholarship and then succeed later in business and life.
Golf clubs as we know them need to be put out of business and replaced by a new paradigm. They should be managed and staffed by the same type of people who deliver good hospitality at a fine restaurant.
In New York, most restaurants have copied the Danny Meyer style of hospitality in which guests are treated like family, regardless of attire. But what I see at all golf clubs of all varieties, whether they be resort courses or private courses, is almost the antithesis of hospitality.
There is a strange fascination with dress code at golf clubs, as if the strict 1950's rules make them hallowed places of worship. If one steps into a pro shop preparing to play, and one has an untucked shirt or a questionable collar, they will be insulted and humiliated. The club manager will take pride in doing it too, as if he is helping the course to survive when in fact he is doing the opposite.
Who the heck wants to spend hundreds of dollars on a round of golf and feel like dress code Nazis are watching over them? Making matters worse, the people who are given this dress code enforcement authority are lowly-paid uneducated idiots getting drunk off the little power they have.
No New Yorker with real wealth or influence would tolerate for one second being embarrassed by any restaurant manager over dress code. Even three-star Michelin restaurants, such as Eleven Madison Park, will let anyone walk in and dine in casual attire. One's attire should matter far more in a restaurant setting than on an athletic playing field of golf, yet the golf course stooges are the only ones to make a fuss.
It is not just dress code that is a problem at golf clubs. In general, the hospitality at clubs is atrocious. The kitchens are usually far inferior to comparable restaurants. Members are hustled for tips from the moment they step out of the car to the end of the round when people want money to wipe clubs.
People who end up in golf course management positions have usually never had the proper training in hospitality. They are usually white males who have failed at playing golf, lack education or training, and then got promoted within some struggling club because no one else wanted the job. They usually have no real boss either. The screwed-up ownership structure of courses means that there really is no CEO in charge.
In the 1990's, there was a building boom of golf courses. Now, with a glut, they are trying to become entertainment venues for weddings. By the way, it is illegal to do significant business with non-members and still enjoy the tax breaks meant only for private clubs.
Now, about that 800-pound gorilla in the room, which is the degree of difficulty in playing golf that deters most people, that too can be dramatically improved. I started The Golf Project out of need. The way that golf is taught now is all wrong.
The current teaching models lack a didactic rational approach. The field is infiltrated with frauds and false gurus. This topic is being the scope of this essay, but I am quite certain that I could take someone who has never played golf and get them swinging pretty well within 15-minutes. We all have the neurocircuitry required to golf from the time we are born that allows us to throw a gripped club perfectly. The golf "swing" is a misnomer. It should be called the golf throw.
Finally, one big reason that the sport of golf is adrift in the sea without a sail or rudder is that the governing bodies have become corrupted, much like FIFA or the IOC have. The USGA began taking TV revenue from Fox a few years ago. What ensued was a series of bad choices for venues caused by bribes, essentially, from the courses. The U.S. Open should never have been played at Erin Hills or Chambers Bay, but it was. The entire structure of the USGA needs to be investigated by the Department of Justice and changed.
The last few things I listed as needing changed with golf are not easily done. I know that. However, most of the others on my list could be enacted easily if awareness were raised. Stop being treated like a mark by golf clubs and start speaking with your wallet.
Demand the right to walk the course and not pay walking fees. Demand the right to bring robotic electric carts to the course. Insist on a modern dress code. Encourage your club to hire competent managers who have experience at running good restaurants and understand hospitality.
Those golf club managers work for you. Stop paying them if they do not treat you like a customer.
Start with those. Then, dare to speak openly about USGA policies you think are shady or corrupt. Apply pressure to the powers that be.