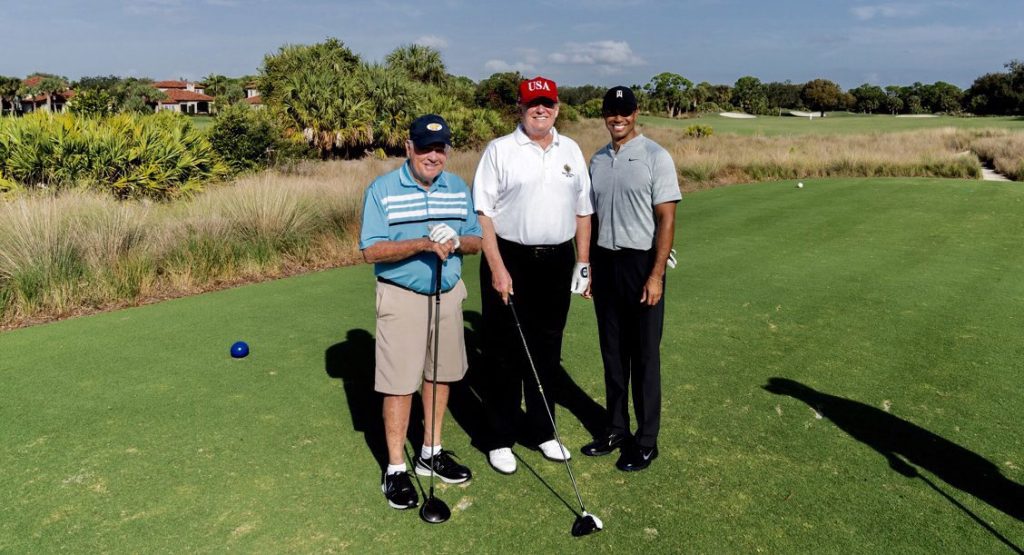 February 2, 2019- by Steven E. Greer, MD
President Trump played a round of golf today with the the two best golfers to ever play the game: Jack Nicklaus and Tiger Woods. I saw in this picture something more than three celebrities. I saw the ideals of golf.
I am reading a book about the great golf course architect, Alister Mackenzie, called The Spirit of St. Andrews. In it, he explains many times how the ideal golf course should be playable by people of all skills.
That is what we see in this photo. Jack is now elderly and can't hit it very far (but still has a great short game). Donald Trump is a better than average golfer, and Tiger is still one of the best in the game. Their ages range from 79 to 43. They are diverse in race.
The Jupiter, Florida course, designed by Pete Dye, allows people of different skills to play. Jack uses the short tee-boxes and Tiger uses the most difficult. The three different golfers can enjoy a round of golf together despite having different skills.
Trump tweeted, "Everyone is asking how Tiger played yesterday. The answer is Great! He was long, straight & putted fantastically well. He shot a 64. Tiger is back & will be winning Majors again! Not surprisingly, Jack also played really well. His putting is amazing! Jack & Tiger like each other."
(Of note, MacKenzie also mentions in the book several times that the ideal course should not make it easy to lose balls in thick grass, etc. I too have said this over the years.
There is nothing more unfair than to lose a golf ball. It is not reasonably possible to go back and hit another one, so the round is lost.
I have urged my own course at OSU Scarlet, designed by MacKenzie, to not grow the rough so tall, and to cut ill-conceived wildlife areas that do nothing but allow them to check the box pretending that they are "environmentally friendly" )