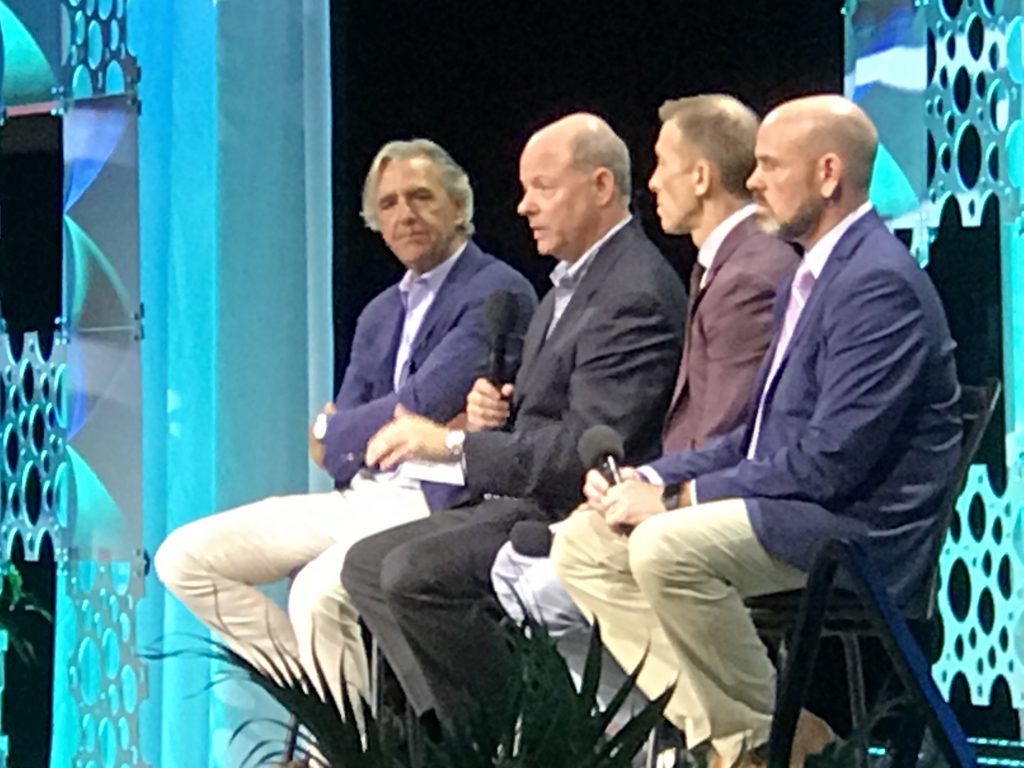 June 3, 2020- by Steven E. Greer
Seth Waugh, the former CEO Deutsche Bank, somehow became the current PGA of America CEO. However, GolfProject.TV has previously reported that the bank, while he was CEO, was the only one willing to still do business with convicted pedophile Jeffrey Epstein. They continued to be his banker right up until he was murdered in jail.
The New York Times is reporting today that, "Banking regulators have spent months investigating Jeffrey Epstein's dealings with Deutsche Bank, which lent money to the disgraced financier and held dozens of accounts for him until shortly before he died, according to four people briefed on the matter but not authorized to speak publicly.
The investigation by the New York Department of Financial Services, which has not been previously reported, could result in an enforcement action against Deutsche Bank as soon as this month, before the first anniversary of Mr. Epstein's arrest on federal sex-trafficking charges, the people said. Mr. Epstein was arrested on July 6 and died in federal custody in August; his death was ruled a suicide.
The investigation focuses, at least in part, on the bank's decision to continue doing business with Mr. Epstein even after employees raised concerns, according to the people. Compliance officers in the bank's anti-money-laundering operation alerted the federal government to several transactions in which Mr. Epstein sent money overseas in 2015, while employees worried about the reputational risks of doing business with a registered sex offender. Ultimately, senior bank executives opted to maintain the relationship with Mr. Epstein because it was so lucrative.
In addition to setting up dozens of accounts for Mr. Epstein, Deutsche Bank served as his lender from 2013 until last year, even as other banks considered him off-limits. Deutsche Bank began extricating itself from its relationship with Mr. Epstein in late 2018, after a series of articles in The Miami Herald examined the secret nonprosecution agreement federal prosecutors reached with him in 2007. Deutsche Bank told Mr. Epstein he had six months to move his money out of the bank."
Meanwhile, GolfProject.TV has exclusively obtained documents through a FOIA request of Saint Lucie County that pertain to the controversial PGA Leaning Center that is now a weed patch. It seems that the PGA has placed the property into a real estate trust, The Common Wealth Trust Services company, and is trying to quietly convert it into an office park. It is unclear as the whether or not the 30-plus acres of grass used for the driving range has been sold yet. The surrounding homeowners are challenging the rezoning. This occurs as The PGA of America is making the inexplicable move of headquarters from Florid to Texas.
The PGA of America refuses to provide details on their plans when asked. The Saint Lucie County Commissioner also failed to answer our questions. Cathy Townsend, the regional commissioner who overseas this project, had been working with GolfProject.TV to save the Learning Center. Then, earlier this year, she stopped answering our emails and calls right as these new plans for the Learning Center were initiated. Clearly, it seems that Seth Waugh's PGA threw some sort of favor the county's way to grease the deal.